Dornoch 1300-1600
The Scottish Reformation
We have very little information on life in Dornoch during this 300 year period, and yet two events of major significance for the town did take place during the 16th century. The Scottish Reformation of the 1560s was a defining moment in this nation's history, although its impact on Dornoch was neither immediate nor dramatic. This was partly due to a lack of Gaelic-speaking Protestant clergy in the area willing to promote the new faith, partly due to the remoteness of south-east Sutherland, and partly due to the religious and political ambivalence of the leading local churchmen and magnates.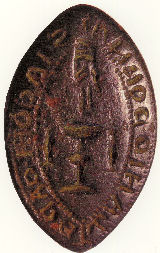 Bishop Robert Stewart was a key figure during the Reformation period, and he was careful not to commit himself fully to either side. He had earlier married his sister to the Earl of Sutherland, and when it became clear that the Reformers were engaged in a systematic policy of seizing church lands, the Bishop signed over many Church properties in Sutherland to his brother-in-law, including the 'palace and citie of Dornoch'. This transaction had major consequences for the town as the Sutherland family, not the church, now effectively owned Dornoch and the surrounding lands.
Feuding clans
The start of the 16th century saw the beginnings of a bitter power struggle between the Earls of Sutherland and the Gordon Earls of Huntly. In 1500 the marriage of Adam Gordon, 2nd Earl of Huntly to Elizabeth, Countess of Sutherland, ensured that the Gordons gained control of the Earldom of Sutherland.
Yet the victory of the Gordons did little to promote peace in the region: The Earls of Caithness, the Murrays of Dornoch and the Mackays of Strathnaver, all took advantage of the tumultuous times to pursue personal vendettas. This perpetual state of anarchy had disastrous consequences for Dornoch in 1570. Three years earlier Mackay of Strathnaver and Lord Duffus had, in pursuit of their feud with the Murrays, laid waste the Barony of Skibo and burned the town of Dornoch.
This led to a series of tit-for-tat skirmishes until, in 1570, the town was devastated by fire when it was attacked for a second time. The Cathedral (apart from the tower where the Murrays made their final, desperate last stand against the attackers) was destroyed, as were many private houses in the town. It was only in the next century that serious attempts to repair the Cathedral were made, and for almost fifty years the Church of St Gilbert lay in ruins.