History of Dornoch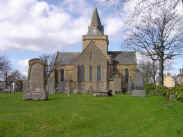 Dornoch parish covers 53 square miles and includes the Royal burgh of Dornoch, the former fishing village of Embo, and nearly twenty crofting townships and hamlets. Dornoch is the parish's largest settlement as well as being the county town of Sutherland. Once the seat of the Diocese of Caithness, it still contains Scotland's smallest cathedral.
One of the major difficulties encountered in telling the story of Dornoch (both parish and burgh) is that the area's history is rather disjointed. Long periods of inactivity, where nothing significant ever seems to occur, are briefly punctuated by episodes of interest and importance. Presenting a coherent picture of Dornoch's past is not made any easier by the absence of both archaeological and documentary evidence. There has never been a major archaeological survey of the parish or burgh, while many of the early written records have either been lost or destroyed.
What we are left with – at least prior to the 18th century – is fragmentary evidence, based on scraps of official documents, Norse Sagas, place-names, legend and tradition, a not wholly reliable 17th century account of the Earls of Sutherland, some minor archaeological finds and the topography of the area itself. The picture does become much clearer by the 18th century simply because many more (although not all) of the official records relating to the town have survived. What follows is a chronological account of Dornoch's development from the earliest times to the 20th century.