Dornoch Light Railway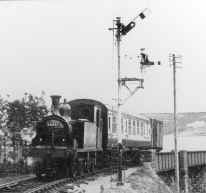 In 1902 a group of Dornoch businessmen opened the Dornoch Light Railway, a branch line which connected to the main Highland Railway some 7 miles away at the Mound. Two years later they opened the Station Hotel (now called the Dornoch Hotel) with sixty stylish rooms and all the latest facilities. For the next thirty years this upmarket hotel was a magnet for wealthy tourists.
For many local people the Dornoch Light Railway was a gateway to the rest of the world. For the first time in history travel was affordable and relatively easy. Fishworkers from Embo could buy return tickets to the herring ports of England, and earn money to send home, and the parish's young people could travel easily to universities in the cities.
By the 1950s car ownership became the norm and rail travel declined. Dornoch's Light Railway was deemed unprofitable and in July 1960 its much-loved 'coffee pot' engine steamed to the Mound for the last time.
Museum displays include various artifacts and photographs of the Dornoch Light Railway and, for your further entertainment, there is the movie 'The Dornoch Light Railway'
The Dornoch Light Railway DVD is available from the museum shop.