DVDs
The Dornoch Light Railway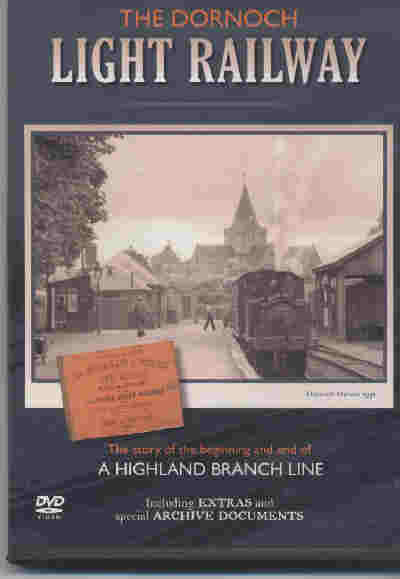 Dornoch Light Railway DVD produced in 2007, approximate running time 90 minutes. The content includes: A History - running time 33 minutes - why and how the branch line was built - Memories - running time 18 minutes - recollections of those who worked and travelled on the line and From Above - running time 23 minutes - the route of the line today, from Dornoch to the Mound, shot from a microlight
The extras include 'Proud Sutherland' a short film of Sutherland in bygone days, 'The Dunrobin', the Duke of Sutherland's train now in British Columbia, and 'Historylinks Museum' and insight to our museum.
When used with a personal computer, the DVD provides access to portable document format (PDF) files, including 'The Dornoch Light Railway' the 100th Anniversary book by Barry C Turner, and a collection of photographs, maps and cuttings.
(PAL - UK format)
A short overview providing a selection of clips from the video, including the extra 'Proud Sutherland' is available on YouTube.
£14.95 ea
A Year in Dornoch 2013
Peter Wild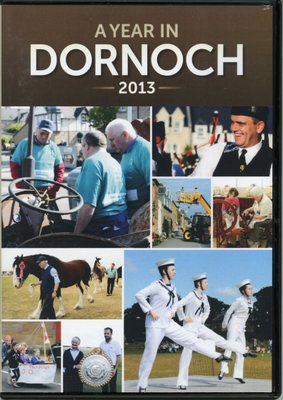 When Peter Wild retired as Historylinks Museum Curator at the end of January 2013 he did not put his feet up! He had already embarked on a project involving one of his hobbies - film making. The end result was the launch on 16 May 2014 of his film 'A Year in Dornoch 2013' which provides a comprehensive film record of the many activities in the Dornoch community calendar.
No doubt the year was chosen largely with his retirement in mind but Peter's choice turned out to be the celebration of two Dornoch 100th anniversaries, that of the Dornoch Primary School and the Carnegie Shield competition played at the Royal Dornoch Golf Club. In chronological order the events featured include New Year celebrations, Primary school anniversary events, the 'Meadows Flock' - spring lambs, Pipe Bands, Tractor Charity event, Dornoch Flowers, the Sutherland County Show, Dornoch Highland Gathering, Light Aircraft gathering at Dornoch airfield, Dornoch Festival Week, the 100th Carnegie Shield, Bonfire Night and Hogmanay. 'Behind the scenes' activity provides a mark of appreciation for the many volunteers involved in event preparations for the benefit of the community.
The running time is 106 minutes and a short overview providing a selection of clips from the video is available on YouTube. The DVD is available from the Museum Shop with all profits from sales going to the Dornoch Heritage Scottish Charitable Incorporated Organisation (DHSCIO) the parent charity for the Museum..
£8.00 ea