Dornoch War Memorial Project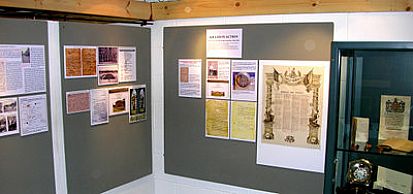 A project to add personal details and images to Dornoch's World War 1 and 2 Rolls of Honour was undertaken as part of the museum's contribution to Scotland's 2009 Year of Homecoming.
The project led to an exhibition in the museum and the addition to the Historylinks website of a War Memorials page, launched 26 May 2009, which provides access to World War 1 and 2 Rolls of Honour and details of military graves and headstones in local cemeteries.
A page commemorating each individual serviceman and woman can be accessed from the Rolls of Honour lists. Where available photographs have been included and, with the kind permission of the Commonwealth War Graves Commission, a copy of the CWG certificate recording the location of burial or, where there is no known grave, the memorial on which the indivual is listed.
Inevitably there are some details which remain unknown. In particular, we would like further information concerning:
| World War 1 | World War 2 |
| --- | --- |
| Sergeant Robert Fraser, 5th Battalion Seaforth Highlanders | Lance Corporal John Fraser, 5th Battalion Seaforth Highlanders |
| Private David C MacDonald, 5th Battalion Seaforth Highlanders | Leading Seaman Benjamin Gillie, Royal Naval Reserve |
| Private Angus or Alexander MacKay, Seaforth Highlanders of Embo | Driver E A MacGregor, Royal Air Force |
| Private A MacLeod, 1st Battalion Highland Light Infantry | Leading Seaman John MacKay, Merchant Navy of Embo |
| Private Donald Munro, 2nd Battalion Seaforth Highlanders | Leading Seaman P MacKay, Merchant Navy of Embo |
| Private John Munro, 4th Battalion Seaforth Highlanders | |