Dornoch Heritage Trail Guides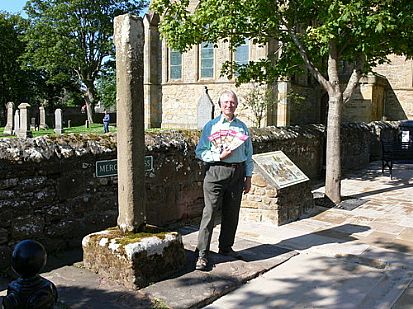 In 2011 the museum produced versions of the popular Dornoch Heritage Trail Guide in five languages, English, French, Spanish, German and Gaelic. This marked the first instance of a museum booklet publication in Gaelic, accomplished with the generous assistance of the Highland Council translation services.
In the process of producing the French, Spanish, German and Gaelic versions of the Trail Guide, which takes visitors on a tour of the historic landmarks of Dornoch, in the opportunity was taken to introduce line drawings relating to the text and to provide a glossy, colour cover.
The guide, priced at £1.99 to cover printing and production, is available in the museum shop and at a stand in the Dornoch Tourist Information Centre.
Museum Curator Peter Wild is seen holding copies of the five versions of the guide at the Mercat Cross in the High Street, Dornoch which is one of the locations featured in the guide.