Historylinks Dornoch Blog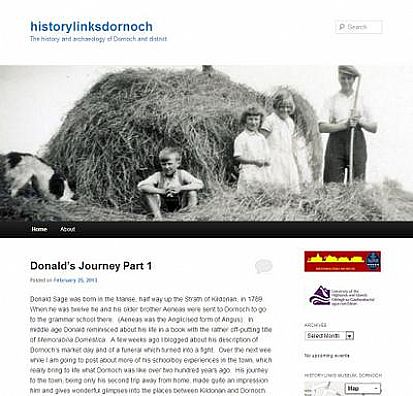 The 'historylinksdornoch' web log ('blog'), dedicated to exploring the history and archaeology of Dornoch and its neighbouring parishes, was formally launched on 21st February 2013.
The blog is a collaboration between Historylinks Museum and the Centre for History at the University of the Highlands and Islands, co-ordinated by Dr Elizabeth Ritchie, Lecturer at the Centre of History and a member of the Historylinks Committee.
Following discussion and agreement in principle at the December museum committee meeting, Dr Ritchie rapidly moved to website development resulting in 7 'posts' of fascinating articles being in place by the time of her demonstration of the blog to the subsequent committee meeting on 20th February.
There was no hesitation in unanimous committee approval with agreement to immediate formal launch.
It is the intention that the blog posts, appearing three or four times each month, will discuss artefacts and documents stored by the museum; museum activities; the history and archaeology that is out and about in the district; and history-related events happening in the area.