New Display Cases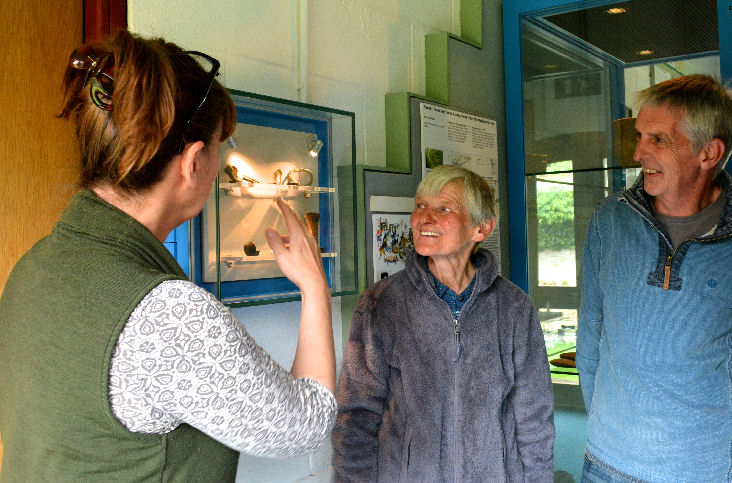 Curator Lynne Mahoney with Margaret Thomson and Pete Webber facing the camera.
In time for the visitor season the museum installed two new showcases purchased with a grant from the Association of Independent Museums & The Pilgrim Trust. To celebrate the display of these attractive items, the museum invited Pete Webber, who discovered the objects, and Margaret Thomson of Ospisdale, to view the finds.
The secure design of the cases enables visitors to view in close proximity selected artefacts and coins from the museum Treasure Trove collection. The initial exhibits on show included exciting archaeological finds from Ospisdale and a selection of the museum's coin collection from the reign of Elizabeth I to the Victorian era.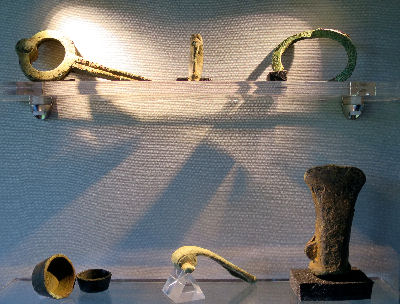 The new display of artefacts included a 12th Century copper buckle with a grotesque beast biting its tail (top shelf centre). This particular object featured in the Highland Archaeological Festival 1st -16th October 2016. Historylinks formed part of an Archaeological trail in the Highlands with visitors being issued with a 'passport' to be stamped when they successfully viewed a featured object.