WW1 - MURRAY William 'Willie'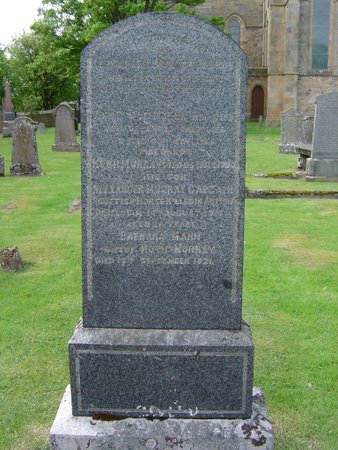 Rank: Sergeant
Number: 240024 (Formerly 336)
Unit: 1/5th (Sutherland and Caithness) Battalion, Seaforth Highlanders. T.F.
Died: Died of wounds 10.4.17 1/3 Field Ambulance, Arras (Wounded 9.4.17 Roclincourt) aged 22
Parents: Alexander and Annie Campbell (Mackay) Murray of Lonemore, Dornoch
Born: Dornoch 1894
Enlisted: Dornoch
Buried: Roclincourt Military Cemetery, France
Memorials: Listed on the Dornoch War Memorial
Commemorated on the Memorial Plaque in Dornoch Free Church
Commemorated on the family headstone in St. Barr's Burial Ground, Dornoch Cathedral.