Heritage Trail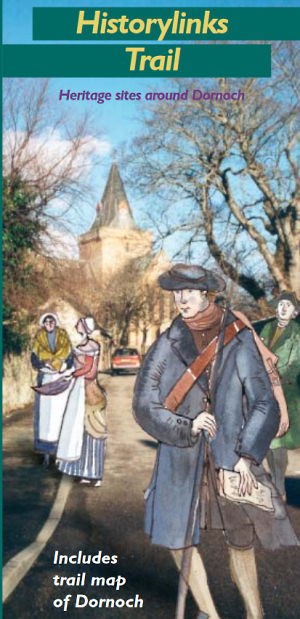 The starting point for the trail is the Historylinks Museum.
A leaflet, available at the Museum reception desk, includes a map of the trail and details of the main locations to be visited.
There is a display board at each site but, if you wish to have more detail, illustrated guide books in English, Gaelic, French, German and Italian are available for purchase at the museum shop.
You can explore the town by walking around with an eye open for detail: a street name here and architectural detail there, all add up to give a fascinating picture of our past. Dornoch is unusual, in that so much of our heritage is accessible.
Stroll among the gravestones in the churchyard, looking for familiar names. Contemplate your fate in a cell in the jail (now a shop). Imagine how poor wretches met their deaths at the hands of the executioner at several sites.
The Heritage Trail leaflet can be downloaded as a PDF.