Robert Mackay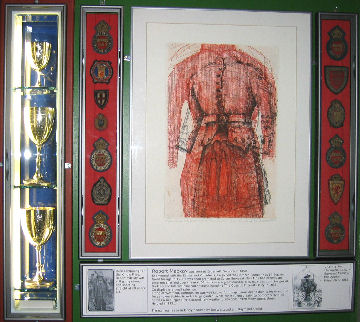 Robert Mackay was born at Cyderhall, Dornoch in 1850.
Enamoured with the Sutherland Volunteers, he joined the Dornoch Company at 14, having faked his age to 17. He was soon promoted to Colour Sergeant. By 21 he had become an excellent shot and over the next 60 years won a great number of cups, medals and badges at Scottish and international competitions including 'The Queen's Prize' at Bisley in 1883. He was still shooting straight and strong at 69 when he competed for the King's prize.
On display is a small selection of his many prizes.
Living at Westfield, Dornoch, he was well known for the generous distribution to his friends of fruit and vegetables from his large garden. While contributing greatly to Dornoch's civic life he was also a legend for extraordinary weather predictions, often many weeks ahead.
He died in 1931.