Skelbo Forest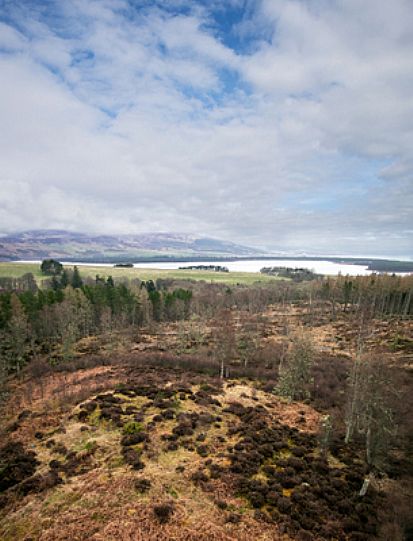 A well signposted Forestry Commission circular walk leads to a prominent broch with an explanatory board.
The prominent position of the broch was evident when the surrounding woodland was harvested in 2008. Subsequently, in 2013 the cleared area of woodland was stock fenced with the introduction of sheep to graze the broch mound.
This drone, oblique aerial photograph was taken in April 2014 to record the outset of the stock fencing project.
There has been no restriction of access to the broch, with a gate provided adjacent to the explanatory board.
We are not sure if the Iron Age brochs were only built for defence - to keep people safe during an attack from invaders - or as a status symbol, built to impress.
When facing the broch and its signboard, the track to the right leads towards an area of hut circles and a cairn. After about 200 yards careful search within the trees to the left of the track will reveal the mounds indicating hut circle sites.
A further 200 yards along the track, where it bends to the left, on the right, 100 yards into the trees there is an open clearing with an easily recognisable burial cairn.
The Skelbo Forest burial cairn (Grid Ref: NH786943)