The First Sutherland Volunteers
The museum proudly displays an original Colour Sergeant's uniform of the First Sutherland Volunteers (circa 1882)
This uniform belonged to
Colour Sergeant William Allison Bethune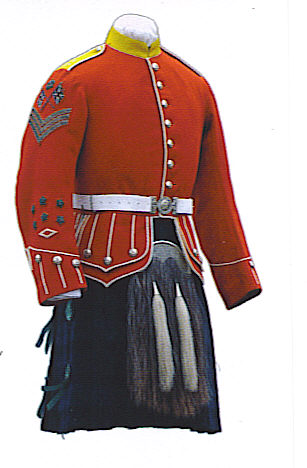 William Bethune was born in 1858 and lived all his life in the same house in Bonar Bridge. He and his wife Margaret MacLeod had 6 daughters and 3 sons. One of his sons died in childhood, another, Daniel, died in action in World War II and the third, Duncan, served in the Seaforths.
He spent his working life as a river pilot. Approaching ships would sound their horn while at sea near Portmahomack. Hearing it, Bethune would cycle from Bonar to Newton Point, join the ship and guide it through the shifting sands of the Dornoch Firth to Bonar Bridge wharf and back again.
He enlisted in the Bonar Bridge Company of the First Sutherland Volunteers as a young man and by 1881 had gained the rank of Sergeant. He was an excellent shot, and for many years competed at the National Rifle Association Meetings at Bisley in Surrey, reaching the final stage of the King's Prize in 1893. He was a regular competitor until 1920.
In 1910, he was discharged but re-enlisted in the 2nd Volunteer Battalion of the Seaforth Highlanders during World War I. He was finally discharged in 1919.
He died in 1944, aged 86.
Sutherland Highland Rifle Volunteers
Highland Volunteer Regiments were first raised during the Napoleonic War between Britain and France. They were disbanded at the end of that war in 1815. However the threat of French invasion in the late 1850s led to the re-formation of many volunteer forces.
The Sutherland Highland Rifle Volunteers was raised in 1859, and in 1864 it became the 1st (administrative) battalion, Sutherland Rifle Volunteers, based in Golspie; it consisted of 5 companies, based at Golspie, Dornoch, Brora, Rogart and Bonar Bridge. In 1867 the battalion adopted the Sutherland tartan kilt and belted plaid. The 5th Bonar Bridge Company was formed in 1868. These were part-time soldiers, not Regular Army units.
In 1881, the battalion was incorporated into the 5th Seaforth Highlanders, a Territorial Army unit based in Fort George. However it retained its distinctive name, tartan and cap badge, and its association with Sutherland. It fought in the Boer War along with the 2nd Seaforths and between 1908 and 1914 was known as the 5th (Sutherland and Caithness) Battalion of the Seaforth Highlanders.
In 1914, the 1/5th (Sutherland and Caithness) Battalion was mobilised and moved to France in May 1915 as part of the 51st Highland Division, where it fought in some of the fiercest battles of the 1914-18 war after which it was disbanded.