The Evelix Valley
The archaeology of the Evelix Valley was extensively studied by Dr Struan Robertson and the late Jimmie Bell, members of the Dornoch Heritage Society.
The museum has an large collection of documents, maps, sketches and photographs, many of which were displayed at Heritage Society exhibitions and presentations. Only a flavour of the data and images can be provided here.
The title page of one folder, compiled by Jimmie Bell and Struan Robertson, states that the contents are "the fieldwork study of the Dornoch Heritage Society over the past three years culminating in an exhibition and display for the Dornoch Cathedral 750th celebration of consecration, 1989". The collection of documents, clipped into a brown medical records folder, includes handwritten text, maps and plans, organised in sections:
| | |
| --- | --- |
| Introduction: | 12 pages of text, contents page and hand-drawn map, all in a single plastic sleeve |
| Puill Fhraoich: | fold-out plan, 2 pages on corn drying kiln. |
| Cnoc Garbh-airigh: | plan of buildings in a plastic sleeve, fold-out plan. |
| Leathad a' Chuailein: | 4 fold-out plans. |
| Ceann-loch-lagain: | 1 page on conversion of croft house to sheep pen. |
| Rhian: | 1 page. |
| Watermill: | fold-out plan, 3 plans |
| Rhistockach: | 3 plans, fold-out plan. |
| Crask: | 5 plans. |
| Monk's Canal, Rearquhar: | fold-out plan |
| Harriet Plantation: | 5 plans. |
| Cyderhall souterrain: | 4 plans. |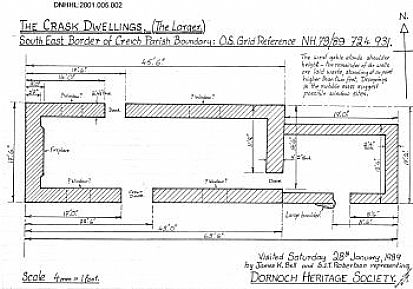 An example of a typical survey diagram contained in the Evelix Valley archaeology papers is that of the crask dwelling at the south east border of Creich Parish Boundary (Grid Ref: NH 724931) (Museum catalogue DNHHL 2001.005.002)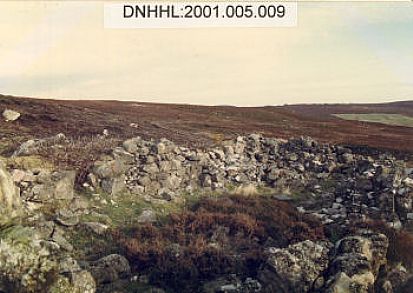 An associated photograph (Museum catalogue DNHHL 2001.005.009) shows the interior of the larger Crask house. An explanatory note indicates that, on the left side of the photograph, there is evidence of a small rear doorway into the building with the comment that back doors to such crofting buildings were by no manner of means a common feature – especially in such high and exposed sites.
Publication 'Abandoned Buildings of the Evelix Valley'
In his final year as Historylinks Trustee Chairman, Graham Park collaborated with Struan Robertson to consolidate elements of the extensive field work to produce a book 'Abandoned Buildings of the Evelix Valley'. The book, published in 2009, is illustrated with sketches, colour photographs and maps and can be purchased from the museum shop.
Publication 'Evelix River'
The 'Evelix River' by Graham Park was published by the museum in 2012. This provides a fascinating account of the evolution of this East Sutherland river from its beginnings about 50 million years ago through the Ice Age up to historic times. The booklet, available from the museum shop, also includes 'The Evelix Trail', with details of 10 localities which may be visited by car or on foot to view significant features of the river course.