DVDs
The Dornoch Light Railway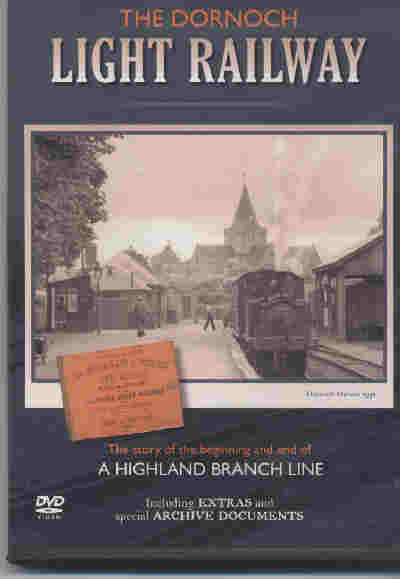 Dornoch Light Railway DVD produced in 2007, approximate running time 90 minutes. The content includes: A History - running time 33 minutes - why and how the branch line was built - Memories - running time 18 minutes - recollections of those who worked and travelled on the line and From Above - running time 23 minutes - the route of the line today, from Dornoch to the Mound, shot from a microlight
The extras include 'Proud Sutherland' a short film of Sutherland in bygone days, 'The Dunrobin', the Duke of Sutherland's train now in British Columbia, and 'Historylinks Museum' and insight to our museum.
When used with a personal computer, the DVD provides access to portable document format (PDF) files, including 'The Dornoch Light Railway' the 100th Anniversary book by Barry C Turner, and a collection of photographs, maps and cuttings.
(PAL - UK format)
A short overview providing a selection of clips from the video, including the extra 'Proud Sutherland' is available on YouTube.
£14.99 ea