Original Royal Dornoch Golf Club Clock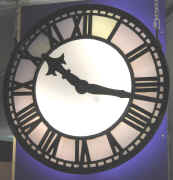 Placed at the entrance and visible from outside, is an illuminated clock which used to grace the tower of the clubhouse of the Royal Dornoch Golf Club. The cast iron clock was skilfully re-assembled by local retired engineers Robbie Bowie and Tom Tew and the Historylinks Curator Peter Wild.
The clock was gifted to the golf club by Lord Brassey to mark the completion of a new clubhouse in 1909. It was made by Derby clockmakers J Smith & Sons and installed by Dornoch jewellers D F McLeod in January 1910. It kept good time for 60 years until it was replaced, during clubhouse renovation, by a four-faced electric clock. For many years the clock lay in bits until the club secretary Bob Dickenson came across it and gave it to retired chartered engineer Robbie Bowie, Whinhill, Lonemore.
By the time Robbie was able to work on the clock, following his building of a new workshop, Peter Wild of Historylinks was showing interest in acquiring it. The clock had to be completely stripped down and cleaned, with the manufacture of a couple of bearings and a bracket to attach the hands to the frame. The mechanical work was undertaken by Robbie Bowie, with help from Tom Tew, and Peter Wild restored the clock face which was missing its glass and needed a new steel frame.